The Game Ball.Com

Preserving Victories Forever!

The Game Ball is :

A lasting momento of your big win or successful season

A unique collectible that sets you apart from the crowd

A great fund raiser for local school programs

A quality constructed football you'll be proud to own

A great gift for seniors and booster club members

A product you'll want to do for all seasons!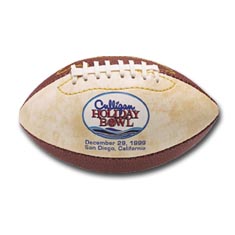 At SellStar, we understand your needs....and the marketplace.  With over twenty years experience in consumer product marketing, we have the expertise to devise a program for your success.  The Game Ball, whether to highlight a big win over an arch rival or a successful campaign, will help extend your brand into the local community, raise awareness of your program and raise funds for your school. 

We start by asking questions.....what is your objective, how much time do you have, what would you like to see highlighted on your ball?  Then we go to work, designing the correct program and product for your particular needs.   We'll work with your booster club, band, parents association or other groups as you see fit.

We'll help you get off to a successful campaign of selling, then deliver a quality product in a short period of time...packaged to make you proud.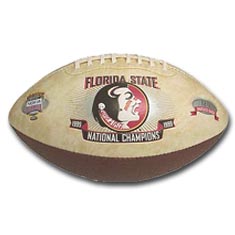 Your Game Ball can feature the following......

Game by game results with scores

Area/Regional/State Title Banner

Two or four color screen or embossing

Autograph panel for team autographs (optional)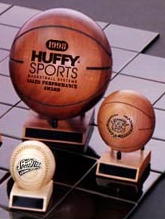 Post Season Special!

Preserve your 2003 - 2004 season with this beautiful solid wood basketball set.  Our Great Balls of Wood program provides a 2/3 size mahogany basketball on a georgous base along with fifteen 1/3 size balls...enough for each player and coach! 

On the larger ball we can engrave your entire season results, game by game if you like, along with team logo, coach/principal name or names of all of your players.  The smaller balls can sport your team logo, season record and Championship banner.  Both balls have a metal plate on the base for personalization.

These balls will make a lasting trophy for your championship season!

Your team can get all this for only $499 (plus shipping and handling) through March 31, 2004.  Want more information?  Just click on the email us button above!   Order now to make delivery in time for your awards banquet.